At the end of each year I like to reflect on the planners I have used and how I have been using them. I share the planners I have set-up for the coming year but I think it's important to also review the past year and what has worked well. In today's post I will run through all the planners (yes plural) that I had planned to use this year and run through what worked and what didn't. If you're interested in reading the 2018 Planner Plans post you can find that here.
Jibun Techo
The Jibun Techo was new to me for 2018. I had never used it before and I was so eager to get my hands on this planner I had to buy from the US and important it, taking the hit on customs. It was a worthwhile decision because it's been my most used planner in 2018. I wrote a full review of this planner and created a video walk through which you can see here.
But to touch on some of the highlights of this planner the paper quality is excellent. It has a version of tomoe river paper which means the pages are super thin and handle fountain pen and inks really well. I recorded a small clip of the sound the almost full planner makes, a stationery nerds dream.
The weekly layouts are brilliant and hold a huge amount of information. It's actually very impressive that they're able to craft that much space out of the page. Over the course of the year I made small adjustments with how I used these pages, but mostly I've stuck to my original review.
And then what really makes the Jibun Techo that little bit extra special is the extras. The pages at the front of the planner that let you record the books you've read, the movies watched and a few extras I didn't use are all really useful.
With one of the monthly overview pages I used it as my Habit Tracker. Having all of this stuff in one planner was not something I'd been able to do before, so the Jibun Techo was unique in that way.
There is a lot to like about this planner and for list makers and memory keepers it's excellent.
Hobonochi Techo Cousin Avec
I have been a Hobonichi user for a few years. The first year I used a Hobonichi Techo is was the English A6 size and it was a sort of journal. But I found that it overlapped a lot with how I used my Travelers Company refill so with my next Techo I switched it up, and then I guess lost my way with it.
This year I bought a Hobonichi Techo Cousin but I couldn't find a way to use it. I tried several different set-ups including a bullet journal, a health tracker and a goal planner but nothing stuck. Unfortunately for most of the year the Cousin went unused.
Hobonichi Weeks
This was my first Hobonichi Weeks and I bought it as I was already ordering from Hobonichi and the design was so damn cool. I was attracted to the slim size and thought I would use it as a functional diary which is how I started out, but this didn't last very long and I just forgot about it.
Pre-empting my 2019 plans I wanted to give the Hobonichi Weeks another run. In October I started using this to track my ailments (I seem to have a lot these days). Headaches and their severity, eczema outbreaks, physio progression and so on. I wanted to know what I felt and when over a period of time so I could link this back to the environment, place or circumstances that may have been aggravating these things. This did work out quite well but did mean I wasn't using it consistently each day. I wasn't sure this was the best way to use one sole planner so I went again.
In the past couple of weeks I have started using this as a diary again. Working out my week in the day sections, figuring out where everyone in the family is and what's going on. On the right hand page I've been noting down the big things I need to get done that week. In the run up to Christmas this has been really helpful.
Travelers Company Weekly + Memo Refill
This has been a constant notebook I have used for years now and I love this refill. My use over this time hasn't changed either. I record small snippets of my day and decorate the pages. Nothing practical, no times, purely things that I experienced on that day.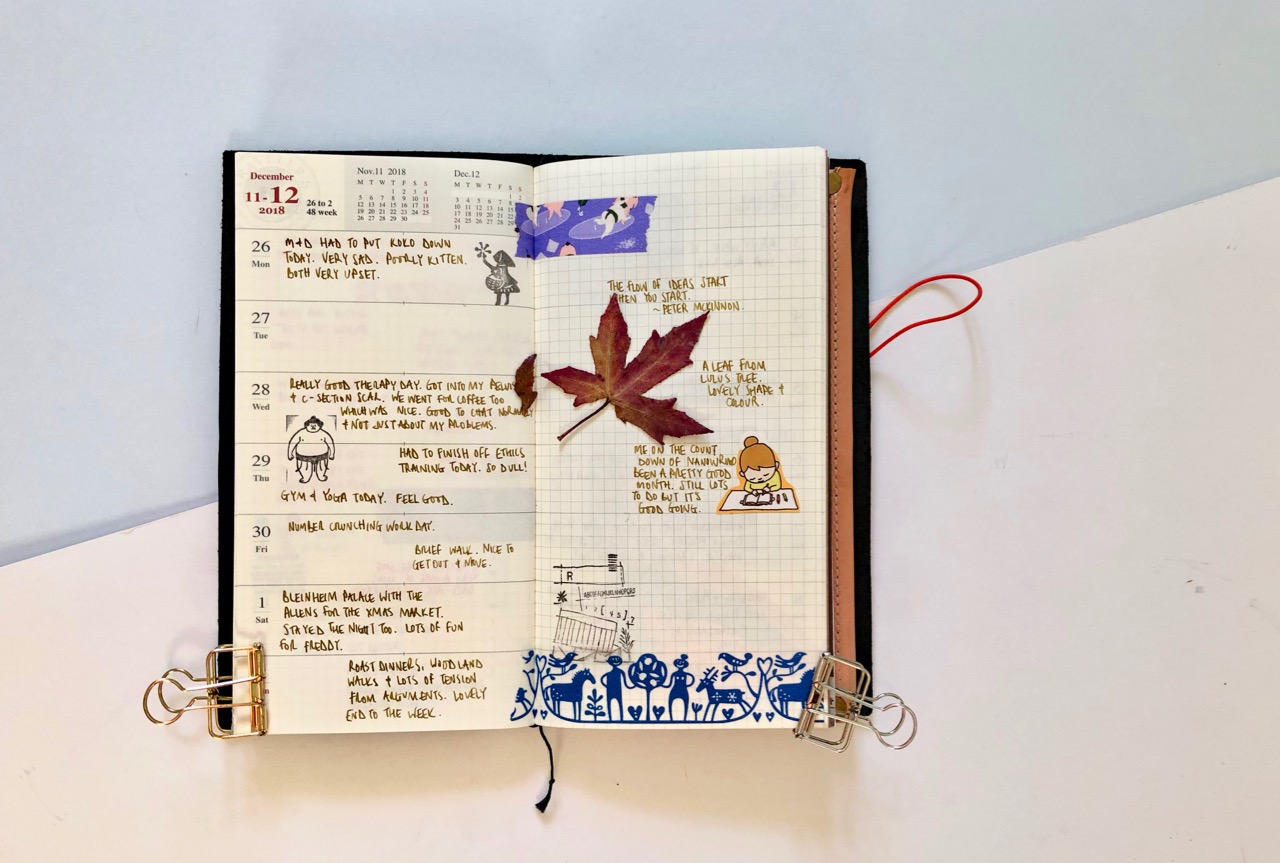 Overall thoughts.
I went into this year with too much. I always do this, but this year it wasn't manageable and as a result I didn't use some of these planners. I hate being wasteful like this, but it has influenced my decisions about 2019.
The Jibun Techo has been a great planner for 2018 and it's almost become a form of analogue time tracker. It's enabled me to see how I spend my personal time and the things I achieve each week.
Next week I will be sharing my 2019 planner plans. I have most of the items already and I will share with you what they are and what attracted me to these planners. 2018 has been a year of personal change and as a result what I need from my planners has changed too.
Baum-Kuchen shared an excellent post on choosing your planner and the evolution of their planners. If you didn't see this check it out here, it really got me thinking about what and how I use my planners.