The Diamine Golden Oasis Shimmertastic Ink was sent to me by Executive Pens Direct to review here on the blog. All views expressed on this ink are my own.
The shimmer revolution.
I have only ever bought and used one shimmer ink, J.Herbins Stormy Grey, and I bought that ink due to novelty and a lot of hype. I very rarely use it and never have this in any of my fountain pens out of pure fear that it'll clog the feed and ruin my pen. I also have a lot of fine nib fountain pens and these don't seem to be the best nib widths to use with a shimmer ink because you're just not going to appreciate that shimmer. So when I received one of Diamine's Shimmertastic inks in one of my favourite colours I thought I needed to revisit my view on the shimmer and see if anything had changed since the days of Stormy Grey.
There are an abundance of shimmer inks out there in the market and Diamine have carved out a good portion of said market. They have a huge range of ink colours that they have added glitter or shimmer too and that range expanded only last year, I presume out of sheer success. I think the shimmer revolution is a fad and something that won't stick around for too long, but despite that it's here and I guess worth looking into.
The specifics of this ink colour.
Diamine Golden Oasis is a lovely bright and vibrant green ink that has been paired with gold shimmer to sparkle on your paper. When you really throw some of this ink on the page it glistens but the ink needs to be used liberally to see the benefit. I have seen some shimmer with a fine nib fountain pen but not enough to appreciate it.
I love the base green of this ink, it's bright and vibrant. It looks a little bit like Diamine Meadow which I always find a lovely Spring like colour.
It's also interesting to use a bright coloured shimmer ink, most of them seem to be darker shades to really get that contrast between the ink and glitter, but this is a sunny shade and it's lovely. It's an ink colour that despite the shimmer I would be attracted to.
Finding the shimmer
The best place to see these flecks are in the ink bottle. If this has been settled for any amount of time you see a build up of the shimmer at the base of the ink bottle. When filling a fountain pen or using the ink you really have to shake up the bottle to make sure the flecks flow through the ink otherwise you won't see any shimmer.
I have used this ink in my Platinum Plasir fountain pen, against my better judgement. After very little time you can easily see the residue build up in the feed where all those tiny gold flecks build up. In my Plasir this doesn't really worry me, but if in a more expensive fountain pen I would probably be crying.
Different uses.
I have also tried using Golden Oasis with a paintbrush to attempt brush lettering and this worked fairly well. I have also tested this out with a dip pen. This wasn't as easy or smooth as with a paintbrush, there was some clogging in the nib which I had to remove every now and again, but the dip pen did show up the shimmer in the ink.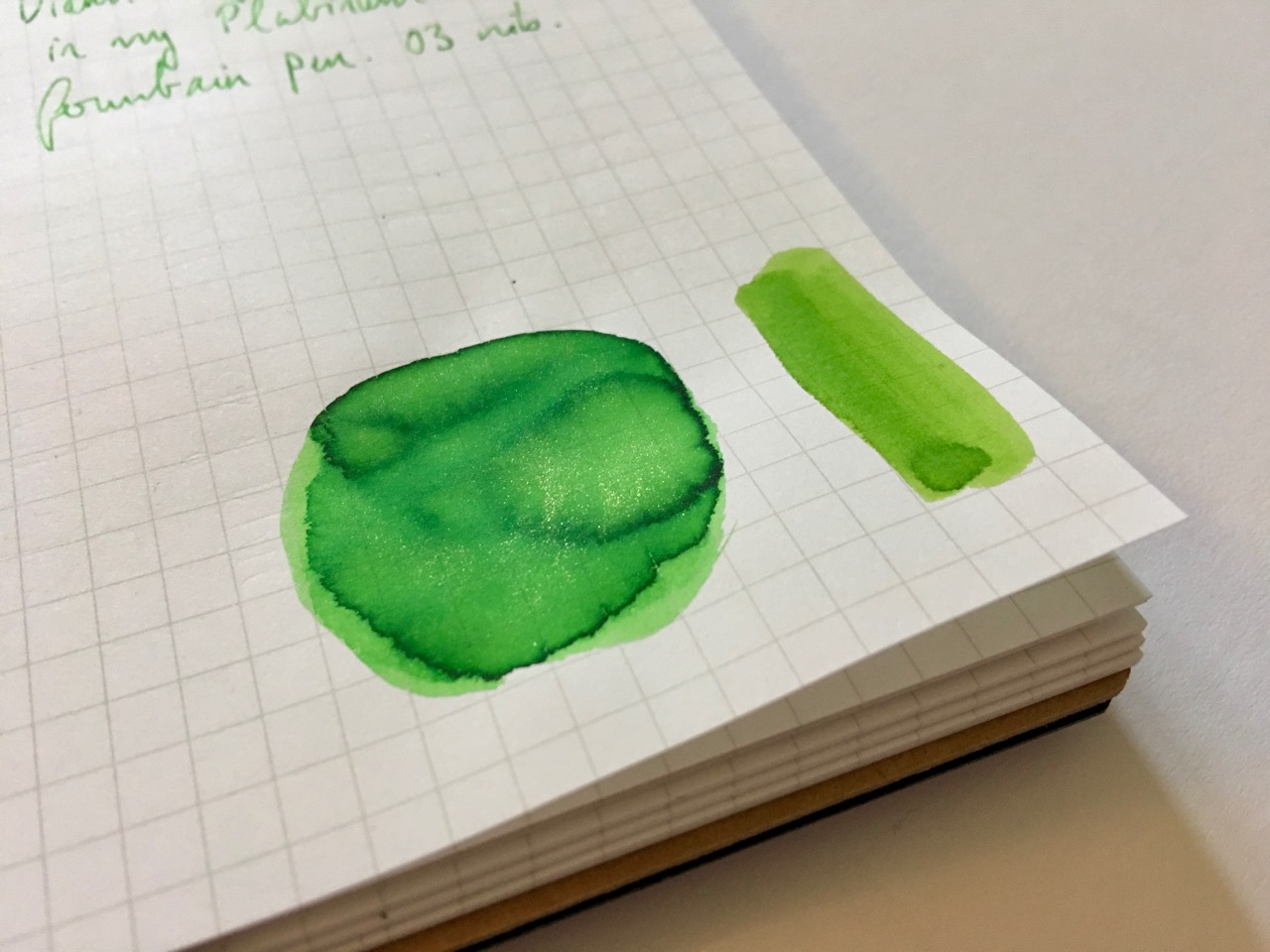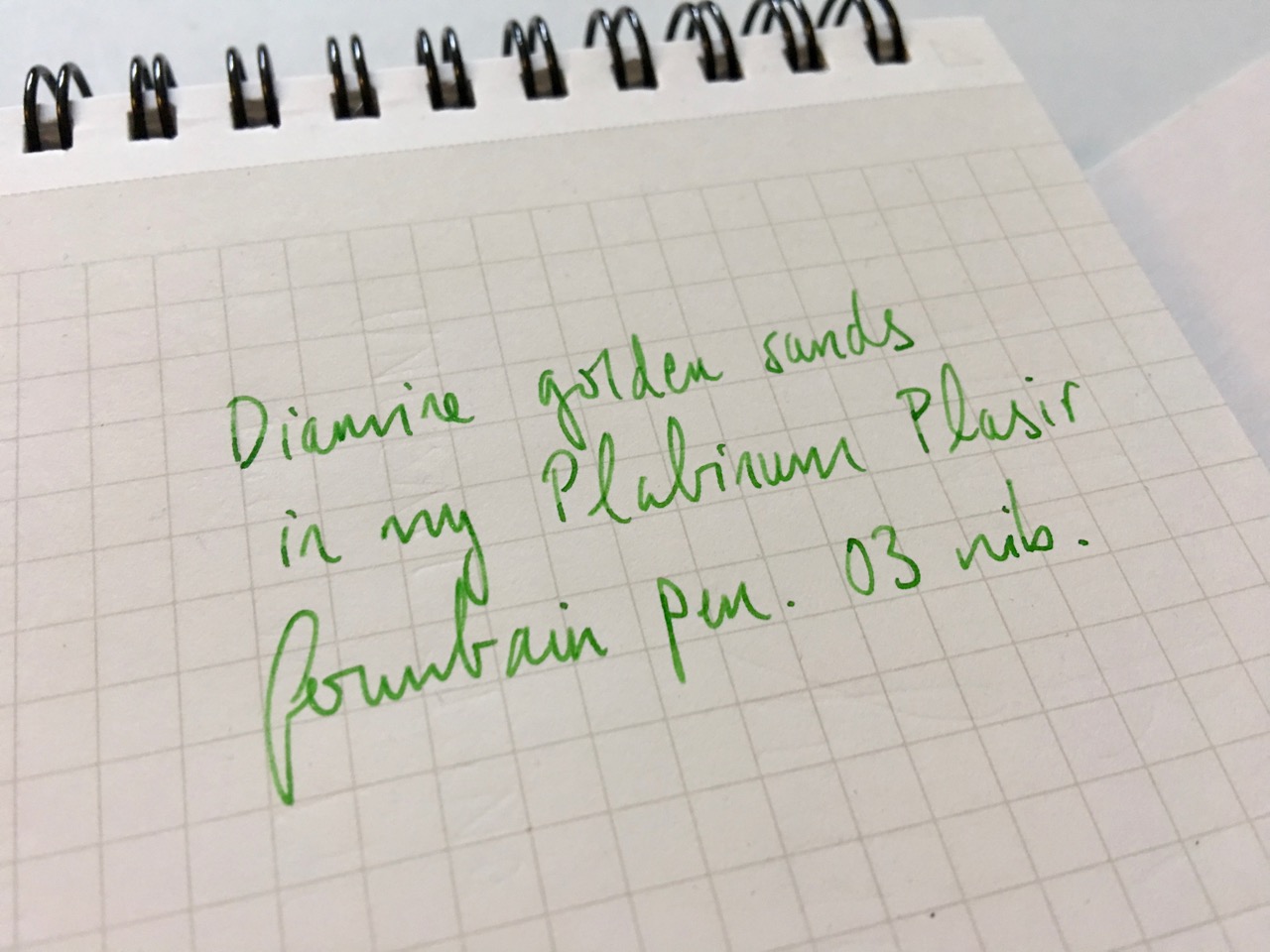 Overall thoughts.
I like Diamine's Golden Oasis ink, it's a great colour thats very bright and fun. This isn't an ink that I would personally use in my fountain pens because I would be too concerned about the damage it could cause. However to use with a dip pen, calligraphy pen or a paintbrush then I think you could really have some fun with this ink.
I'd like to that Executive Pens Direct for sending me this ink to review on the blog.