It's not often that the guys at Field Notes release a new addition to their standard product line-up but in the not so distant past they released the Signature Series. This came to the Field Notes flock due to huge demand after the success of their Dime limited edition.
The Signature comes in a slightly larger size, 4 1/4" x 6 1/2" and with 72 rather than 48 pages. There are two different book options, one ruled (hurrah!) and the other is a sketchbook with plain paper. Both notebooks have a heavier paper stock, 70#T, which is again welcome as it really opens up the variety of writing tools you can use. For some time the lack of a heavier paper stock from Field Notes has limited how and when I use their products, but the Signature has changed all that. I have been happily using fountain pens with no feathering or bleed through and testing out some of my coloured pencils in the sketchbook.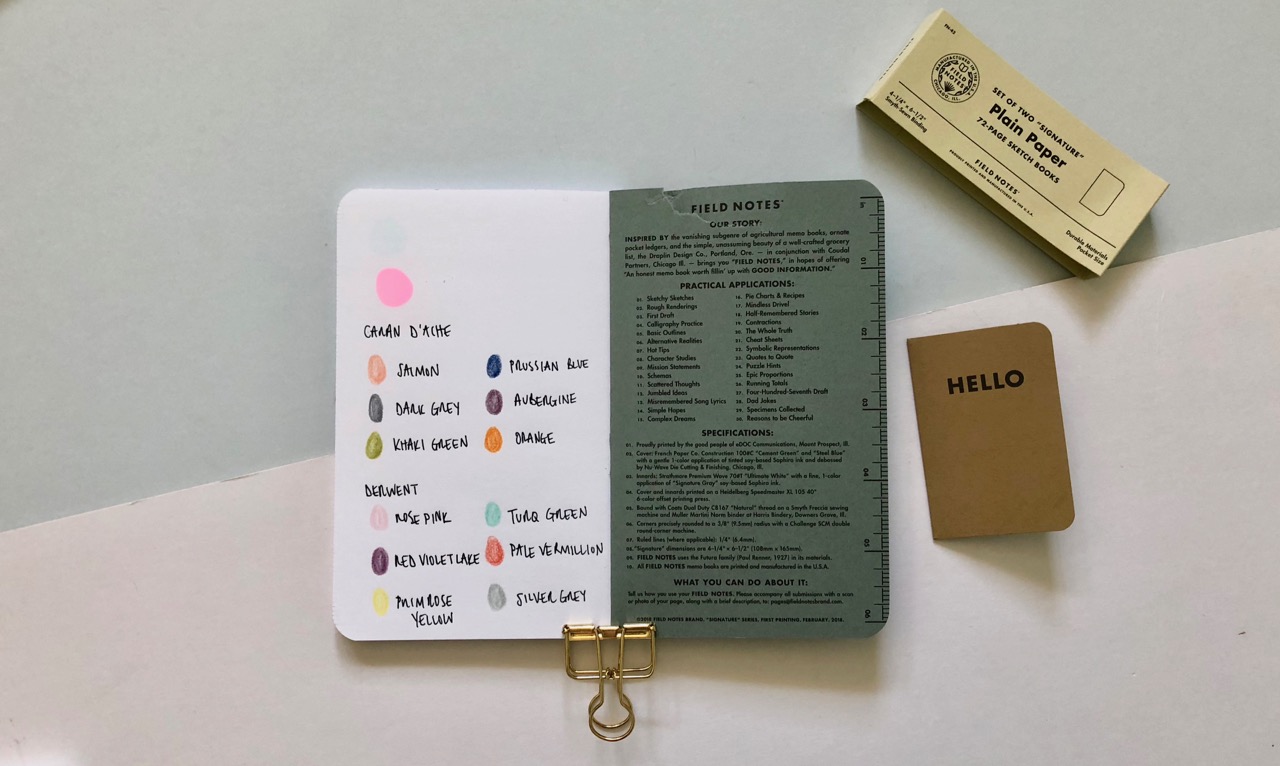 The binding on the Signature gives this notebook its name. The three staples are ditched and a signature binding used which accommodates the size and additional pages.
The binding also means the notebook lays almost flat which really is needed on these types of notebooks.
On the spine the notebook particulars are debossed. These small details really finish off this product nicely and set it apart from the pocket notebooks.
Each version of the Signature has its own colour. The sketchbook is a lovely blue-grey shade and the ruled notebook is a creamy colour. The branding is debossed giving it a really nice subtle finish.
We have grown accustomed to good design from Field Notes. The Signature is very muted and simple but the little Field Notes Flourish (FNF) creeps in and I love it. For this notebook it comes with the logo which is delicious. You see this on the belly band and also debossed on the back of the notebook. It's such a simple logo, it doesn't have any new information on it, or anything specific to this notebook as such but I really like it. Thick lines!
There's a lot to like about the Signature notebooks and it's a fab addition to the Field Notes line. I haven't liked a new Field Notes notebook, limited editions included, as much as this one for some time. The muted colours are beautiful and will give this line longevity. The ruled and plain paper may not be to everyones favour but personally I love them. Grid paper is used so often in the pocket notebook sizes I think we are due to some alternatives and putting these into the larger size makes sense. The sketchbook couldn't come at a better time for me in my sketching journey so I love this too. I'm going to stick my neck out and say these are my favourite Field Notes they have released and fit into my notebook usage perfectly.
Bravo Field Notes!